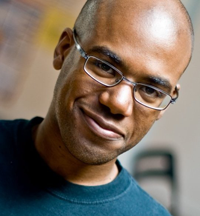 Attention NMU Students!
Edit
This man, Usman Akeju may be visiting your campus today. Find him and you can win $7500!
How you can win $7500 today
Edit
We are participating in a contest sponsored by the upcoming movie Repo Men. In the movie people buy artificial organs ("artiforgs" - hearts, kidneys, livers, eyes, etc) that cost many hundreds of thousands of dollars. When they fall behind on payments, the repo men come and kill them to take the artiforgs back. To promote the movie, 4 people have been set loose in the United States. Whoever finds them wins $7500, for a potential total of $30,000.
Why He will be at NMU
Edit
Usman must complete a "task" each day of the contest, or his GPS coordinates will be revealed to those who are hunting him. Today's task is "#028 - Sit in on a class or lecture at a college or other school." His last known location was Las Cruces, NM on Sunday, so he may be in the area, looking for a class to attend.
It is likely that Usman will be trying to slip into a large lecture hall to blend in. He has degrees from MIT in Computer Science, so he may or may not try for scientific type classes. Check all of your classes!
The RULES - IMPORTANT!
Edit
1. Only registered Repo Men may win. To register (free), visit http://www.wiredinsider.com/repomen/openings/.
2. You can't touch, hurt or do anything to Usman and you can't break the law.
3. You have to take a photo of him (use your phone if necessary) and say "you've been repo'd" to his face.
4. Please announce any sightings to twitter, and add #repomen to your post.
Other than that, follow the rest of the rules at the linked site so you can keep your money. This contest, this site, nor anything related to it are sponsored, endorsed, or acknowledged by the University of New Mexico or any student group.
What We Know
Edit
Usman is a 5'9" and 163 lbs black man, who wears glasses.
Usman may wear a hat to hide his baldness, recently he had a Gilligan style floppy hat
Usman may be traveling with a group of people, including one or more women.
He was last seen in Las Cruces, NM at a Karaoke Bar on Sunday. video
He is a funny, outgoing, intelligent guy who loves the dramatic arts
Reference Photos
Edit